Had a great SXSW this year, took a little different approach and didn't try to cram everything as much in. That, combined with a little luck with scheduling, and it seemed like I enjoyed way more bands this year and didn't see as many crappy bands.
Tons of fun with the comics, starting with
Ari Shaffir
and his show This Is Not Happening. Ran into him in line at franklin's BBQ the next morning too. Super nice guy.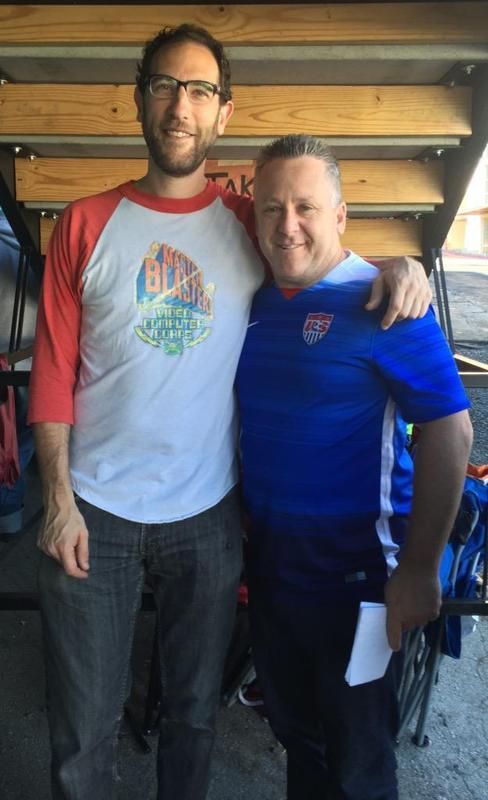 Not nearly as good as the next night though that had sets by
Shaffir
,
Doug Benson
and the master of roasts
Jeffrey Ross
among others. Absolutely hilarious. Ross did a speed roast of random audience members.
The biggest (and only) disappointment was
The Church
gig I caught at an absolutely packed Buffalo Billiards. Weyes Blood was the band that opened and truly they were so terribly boring they nearly put us to sleep. And they ran over their time allotment. Then The Church, after taking too long to do soundcheck, were cut short after playing only 5 songs, and not one I recognized. The next night they played a full set that included all their hits but unfortunately I didn't see it.
Best line of the week: My buddy and I walking down the stairs of our condo, our landlord leading a bunch of old, long haired dudes up the stairs. To our landlord, my buddy says " Hey I think I am going to see The Zombies later today". I looked at him and said "You just did". They were staying a couple of rooms away as were several other bands.
All photos professionally taken with an iPhone.
View from our condo on 6th street:
A+
Palma Violets
at The Parish – An amazing, wild 1 a.m. set highlighted by the band wrestling with and being carried off the stage by security for exceeding the time curfew, apparently the security guards had to form a human wall to stop the band from coming back onstage. From Austin360: "The Palma Violets sounds like it could have come from your garage, if your garage was used for making meth." Our group also made the article: "slurred screaming from fans front and center…and sent even more drinks flying than were typical during the rest of the set".
Riverboat Gamblers
at Jackalope – These guys just rock this bar, completely out of control goodness. This is the place to see these guys. They are very tight and have a pretty strong fan base. The entire set was sung from the top of the bar and included lead singer Mike Wiebe serving drinks behind the bar during a song. 70's weird porn plays on the TV's.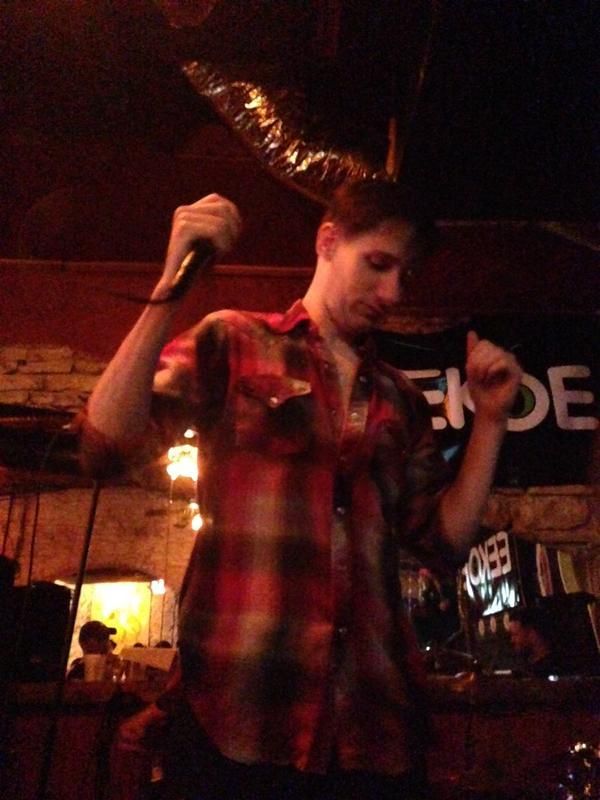 A
Roger Clyne and the Peacemakers
- Formerly the Refreshments, one of Arizona's biggest bands, they are rock solid and didn't disappoint, played several classic Refreshments songs as well.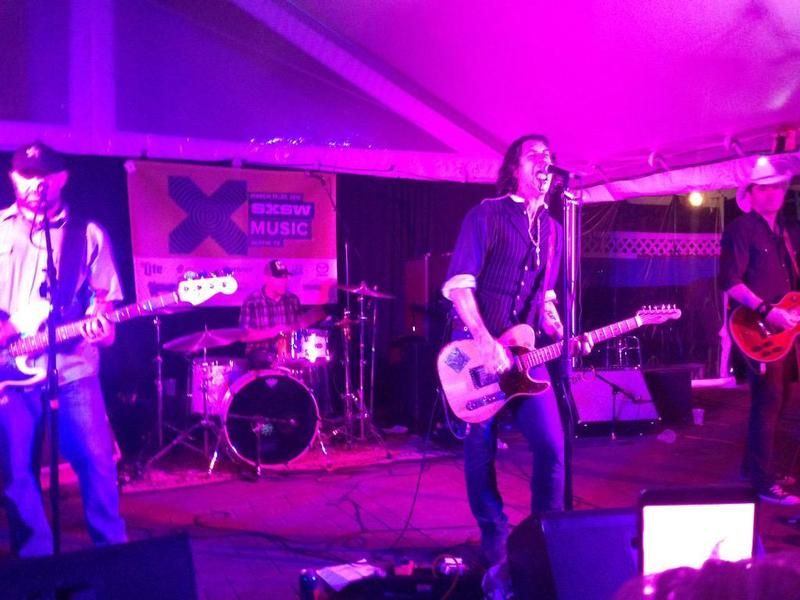 Dreamers
at The Main II – Really Liked them, nice young band with some great songs.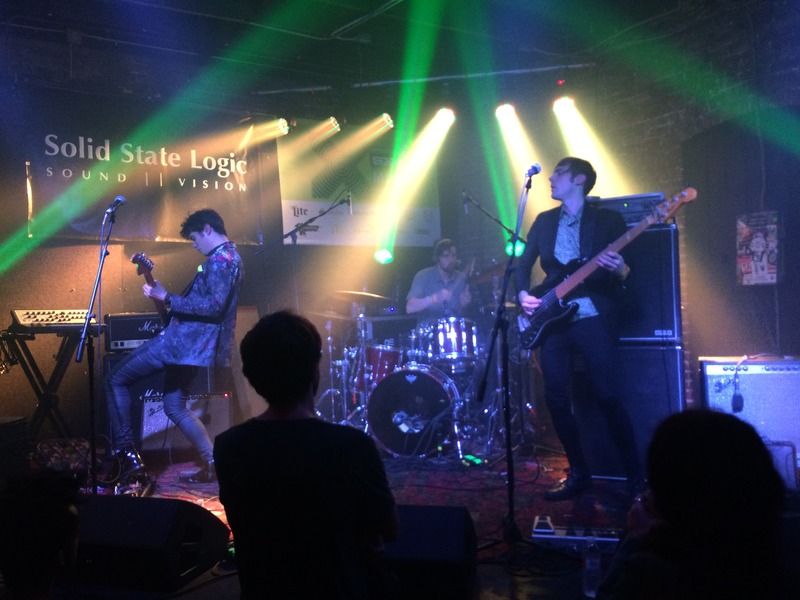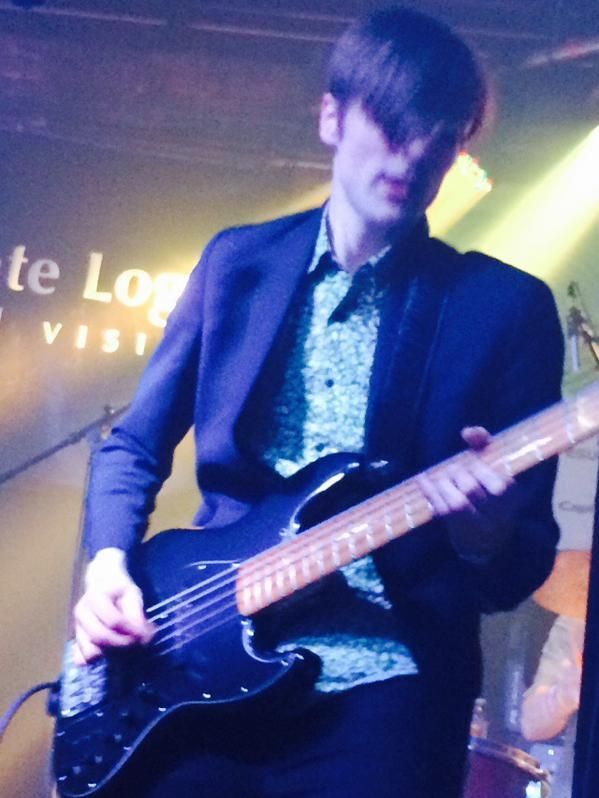 Residual Kid
at Cheer Up Charlies – These kids just keep getting better and better. Solid three piece and their cover of Sonic Youth's 100% was classic.
Built By Snow
at Red Eyed Fly – Their first gig in nearly 5 years, their sound was excellent, combining the Cars and Weezer but a cover of Devo's Girl U Want was spot on and fit perfectly into their set.
Wavves
at Gypsy Lounge – was excited to see this band from San Diego and they wowed both us and the crowd - absolutely loved them. Highly recommended!
Girl Band
at Red 7 – I dig these guys, had never heard them before but they crushed it
Drivin' and Cryin'
at Ginger Man – Just straight forward rock and roll and they do it extremely well.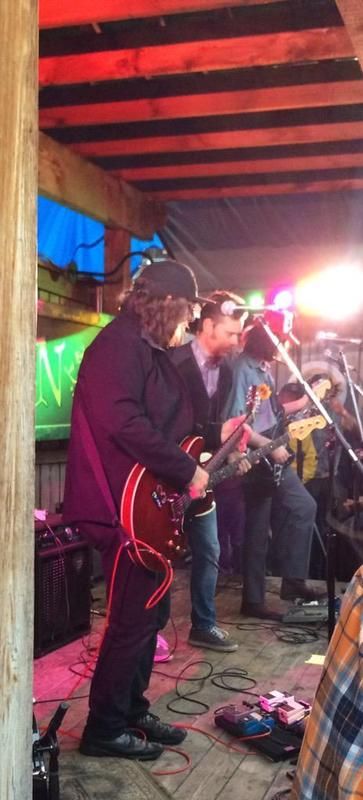 Mac McCaughan
at Red 7 – The Superchunk lead singer and owner of Merge Records performed a solo electric set with a busted up old guitar and played classic Superchunk songs as well as some new solo originals. When told he had 7 minutes left in his set, he joked that he could play his entire catalog in that time. Glad I caught this.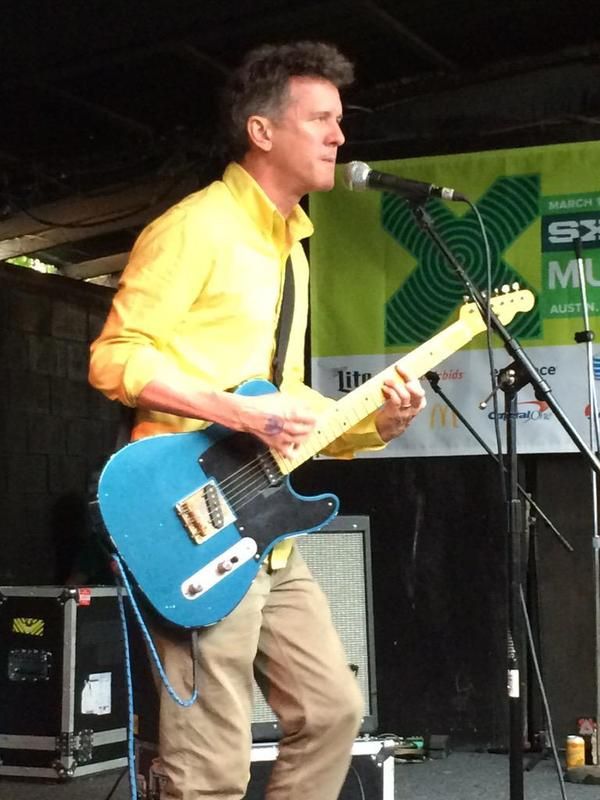 Will Butler
at Maggie Mae's – Member of Arcade Fire's set was excellent, every person in the band had their name on their shirt in 4roast inch high letters. His new album is really good and with Win looking on, they ripped through what was likely all of it. Quirky high energy.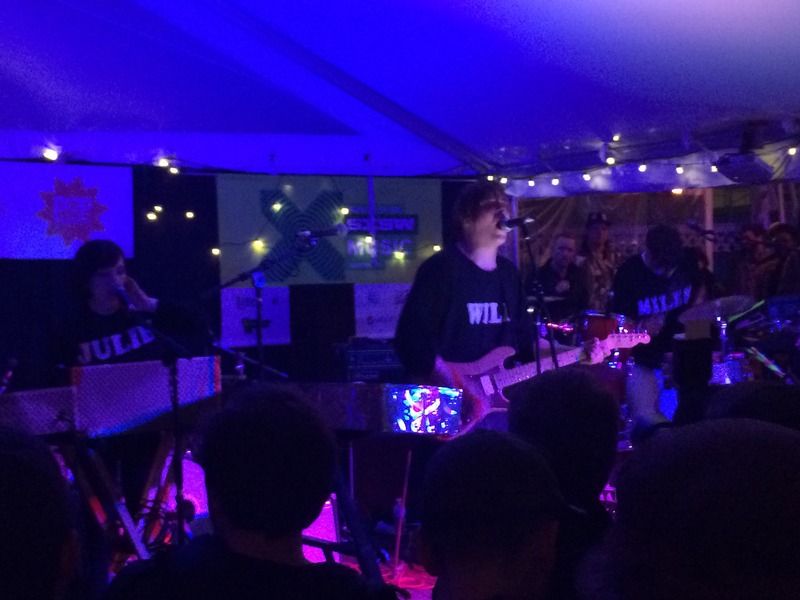 A-
Riverboat Gamblers
at The Main II – Always good but compared to their Jackalope set, this was not quite there but close!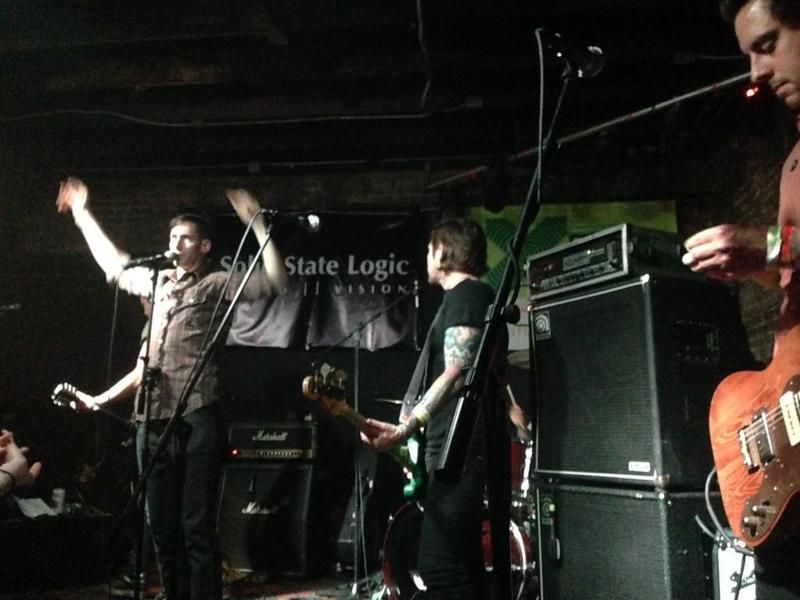 Circa Waves
at Palm Door – Really like this band, simple guitars, bassist was bleeding all over his bass, these guys just released a CD and it's great.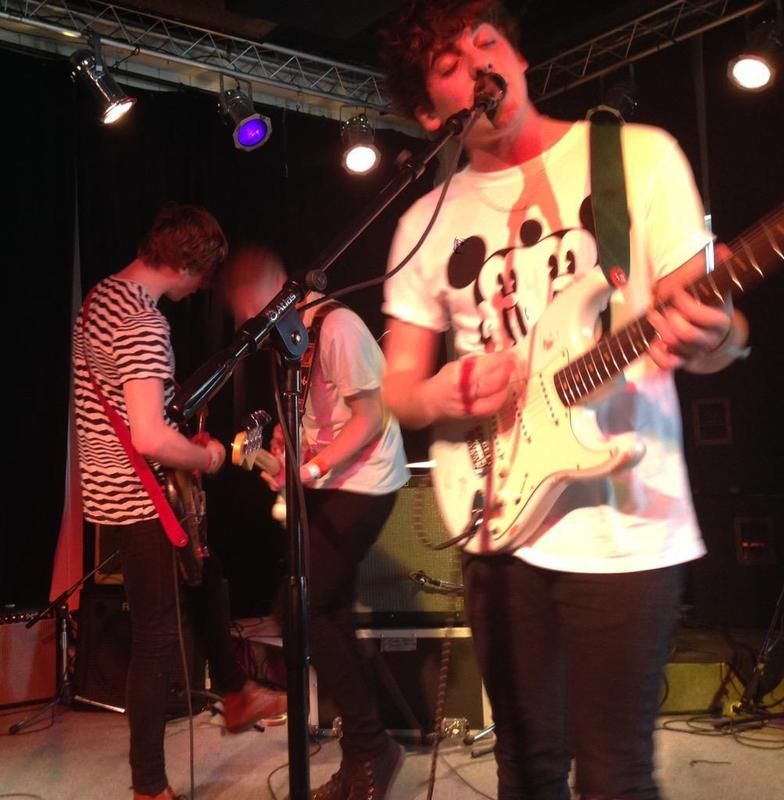 Young Rising Sons
at Maggie Mae's - This might hurt my cred but they might be the next Imagine Dragons. Catchy songs, glad I caught them before they suck.
Night Terrors of 1927
at Empire Control Room – Really liked one of their first songs they released on an EP, listened to their over-produced CD that was released right before SXSW and couldn't find much I liked. Was really surprised by their sound live, very classic 80's new wave and their cover of The Romantics Talking in Your Sleep was fantastic.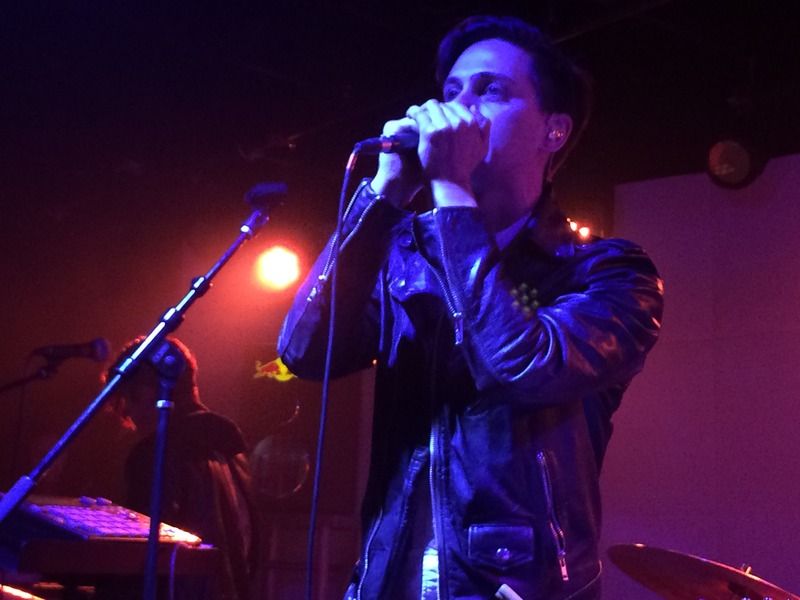 Frank Turner
at Red 7 – Caught the last half of his set and it was just him and his guitar. Played all my favorite songs and is just so full of energy, he's a must see.
Viet Cong
at Red 7 – Their drummer having one arm in a sling didn't hamper their strong set. These guys are going to be good.
Public Access TV
at Red 7 – Garage-y rock from these young guys didn't disappoint, looking forward to hearing more from them. Good songs and a nice sound.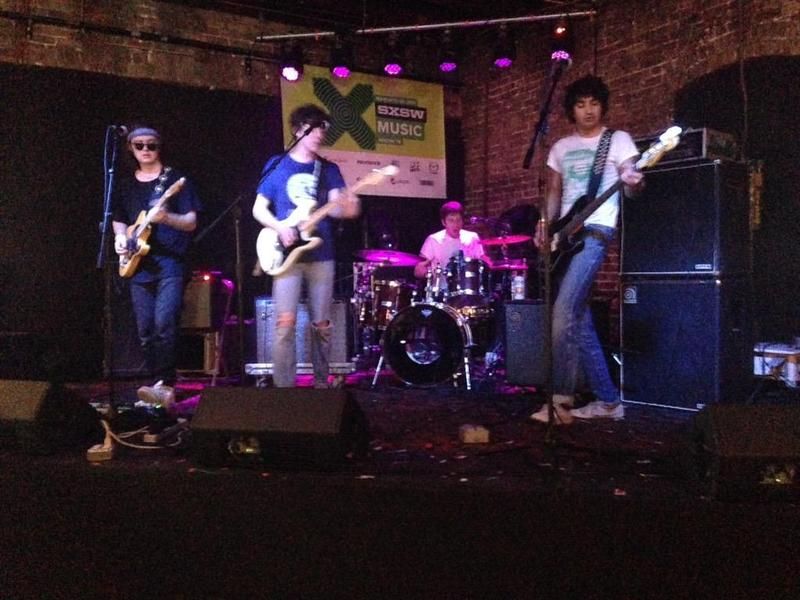 Sheepdogs
at Maggie Mae's – Went with my buddy to see these guys, it was his must see band and although not really my style, their 70's rock, maybe similar to the Allman Brothers (?) and The Band (?) I have to admit I enjoyed these guys a lot.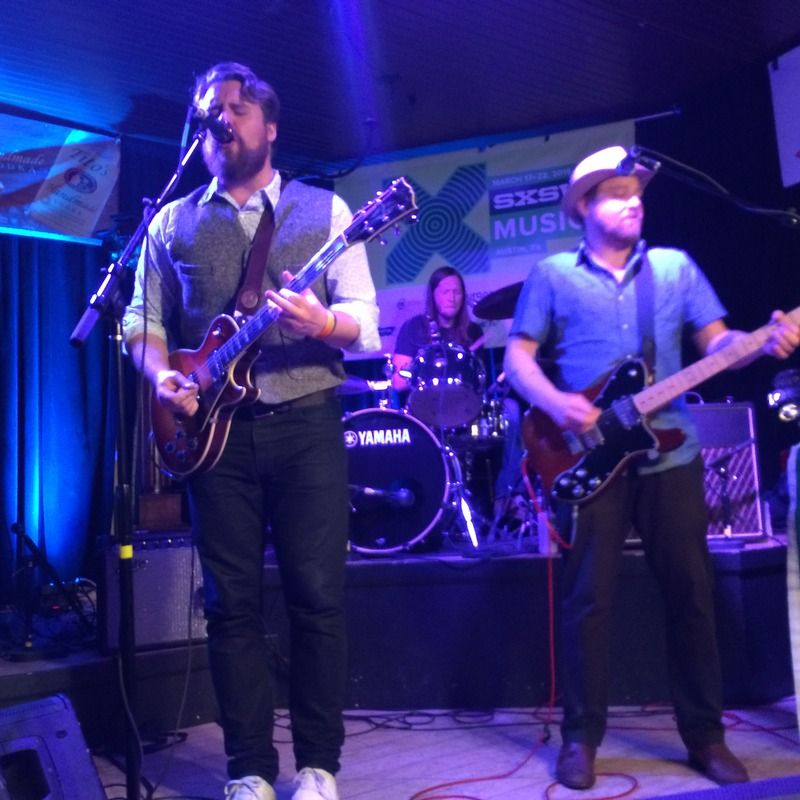 The Spits
at Gypsy Lounge – A raucous punk rock mosh pit with a huge crowd made this a great gig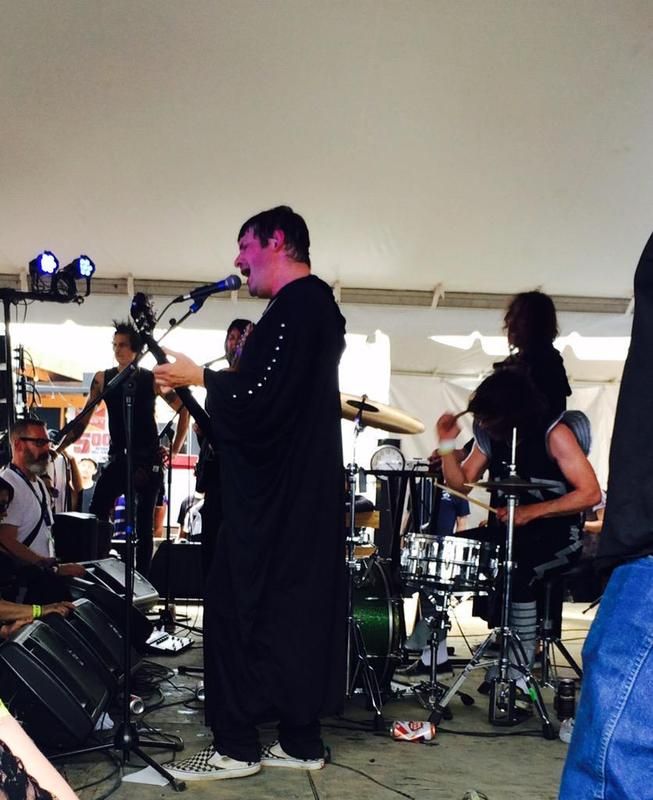 The Vaccines
at The Parish – Caught the last half/two-thirds of their poppy-punk set and they really brought it in front of a packed house. Played some new songs from their forthcoming CD as well.
B
New Myths
at Peckerheads – Plag may have married one of these gals during the festival (or they likely called the police and reported a stalker). All girl band was really good, glad I caught them.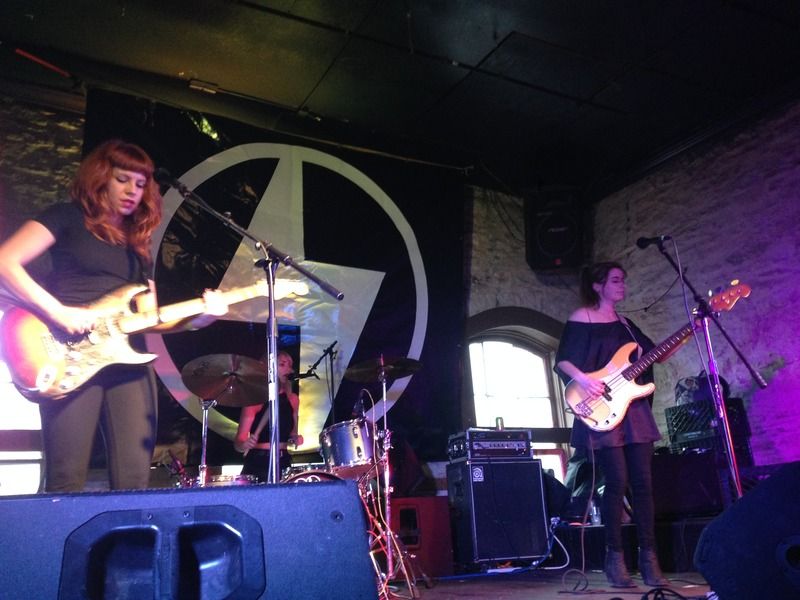 Priory
at Empire Control Room – Better than I anticipated and a great way to kick off the "Weekend". Poppy-synthesized fun. Managed to sing their first song with no sound coming out of the lead singers mic. Sound guy at this venue was clueless half the day.
Palma Violets
at The Gatsby – After seeing them at 1 a.m., you just knew this gig at 5pm (their last of the festival) couldn't live up to the craziness of their late night stuff. A major highlight though was me and another buddy mistakenly let into the Pandora VIP section with free craft beer and cocktails all afternoon. Talking with all the bigwigs from Pandora, luckily, no one asked us what we did for Pandora.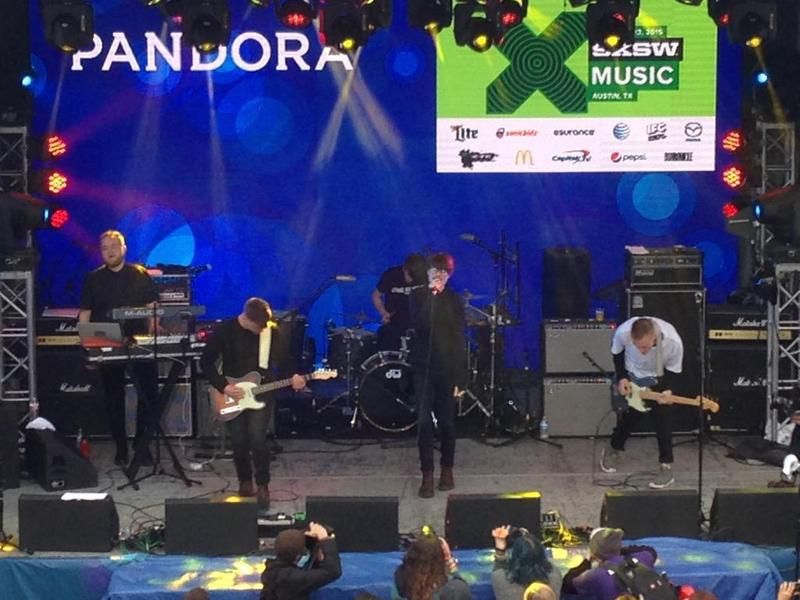 Sheepdogs
at Friends – First time I saw them, this venue sucks with the stage at the front of the bar and the hot drunk girl next to me (who the lead singer told to "shut the Fuck up" in between songs) annoyingly touching my head knocked this show down a notch.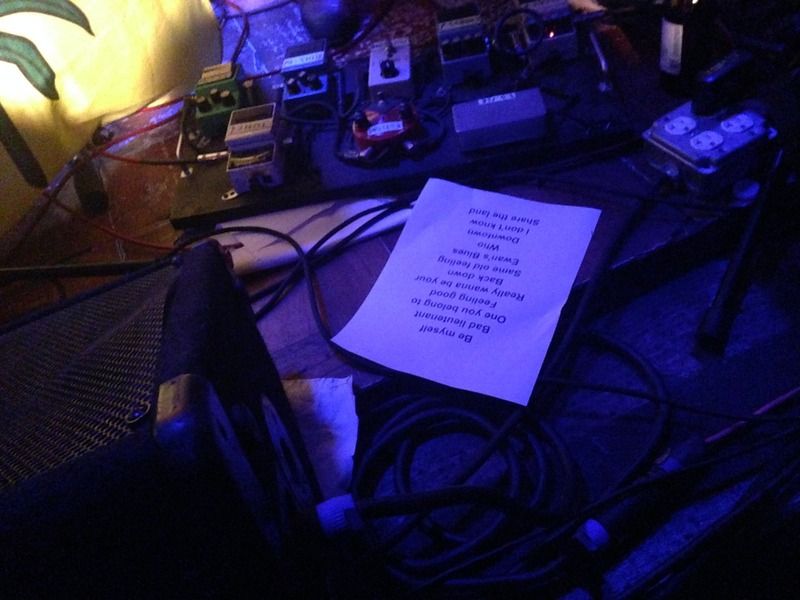 Swervedriver
at Red 7 – Just a band playing their songs, this day time show didn't have a ton of energy
Ex- Cops
at Empire Control Room – Usually a type of band I hate but I gave them a break due to the McDonald's letter. Actually pretty decent.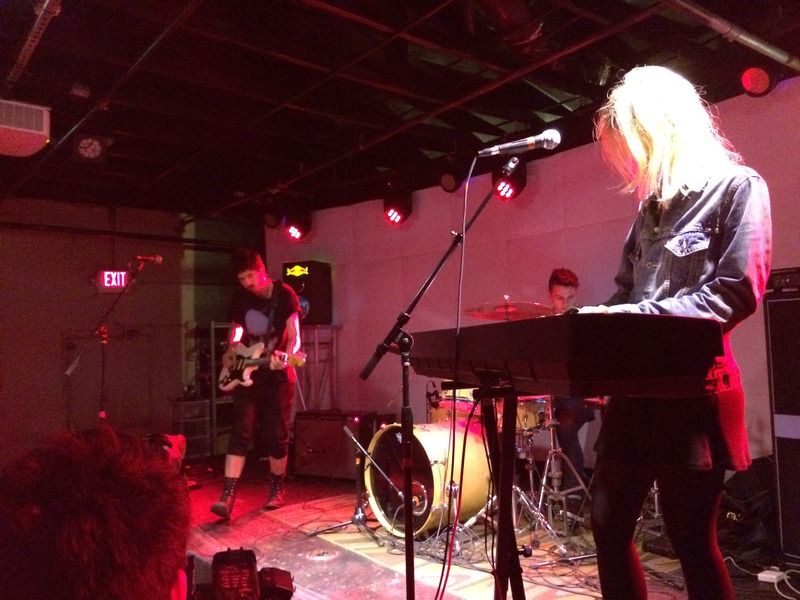 Xu Xu Fang
at Valhalla – This grade may be a bit high, was drunk and slightly disappointed I didn't get to see The Damned.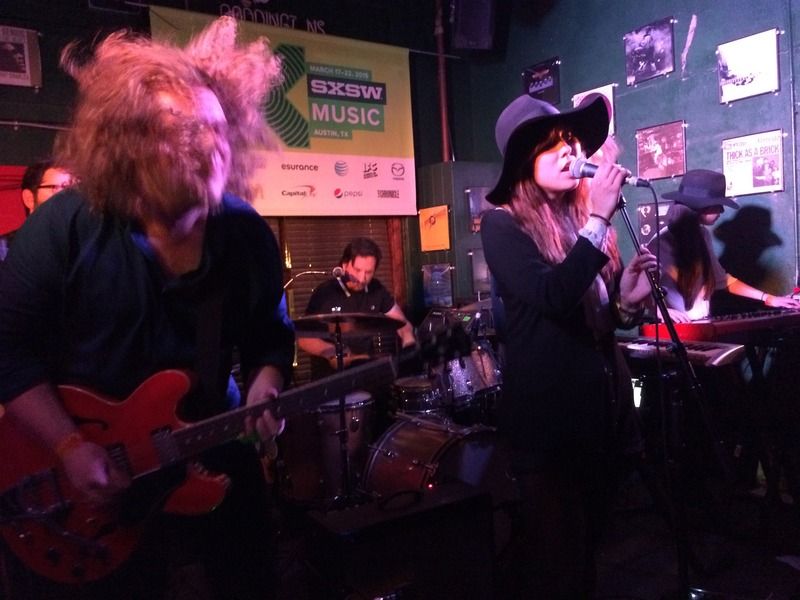 Metz
at Red 7 – I actually enjoyed their punk rock a lot more this year than previous years
Trapper Schoepp
at Maggie Mae's – singer/songwriter, not as bad as I thought, on before Sheepdogs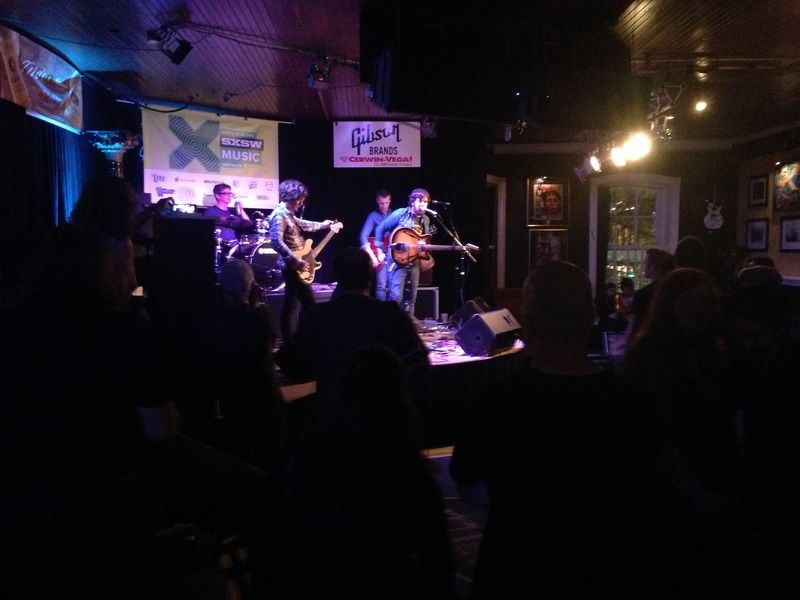 B-
California Honeydrops
at Maggie Mae's – Didn't actually "see" these guys due to the large crowd and the fact we were drinking and watching the NCAA tournament games waiting for Roger Clyne and The Peacemakers. Imagine a big band/party band with a saxophone who had the crowd going with their upbeat sound. If I had to venture a guess, these guys were wearing tuxedos. Actually had some enjoyable stuff you couldn't help but nod along to.
On and On
at Palm Door – Surprised by these guys who I saw waiting for Circa Waves.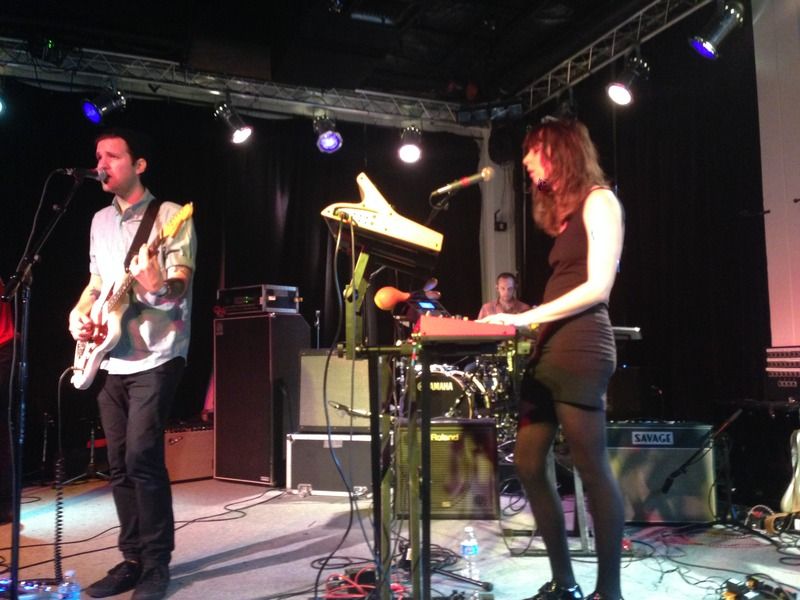 Daniel Wilson
at Red 7 – imagine the gospel guy who sings at the church fronting a rock band. Dude could sing.
C
Smallpools
at Empire Garage – Coming soon to your Pop 40 radio station
Speedy Ortiz
at Swan Dive – Don't believe the Hype. Nothing to look at, move along.
[b]Joywave
at the Gatsby – Second time I have seen these guys over the years at SXSW. Neither excited by or offended by their electronic dance sound.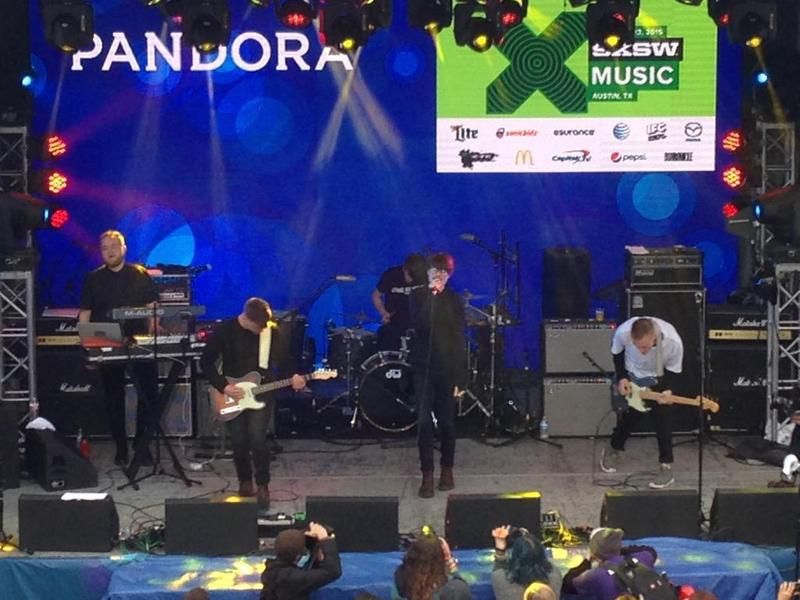 F
Weyes Blood
at Buffalo Billiards – See above. Dreadful
Tons of free beer this year, most of the time from damn good breweries, here is the Green Flash party:
Almost 2 am, police getting ready to clear the streets;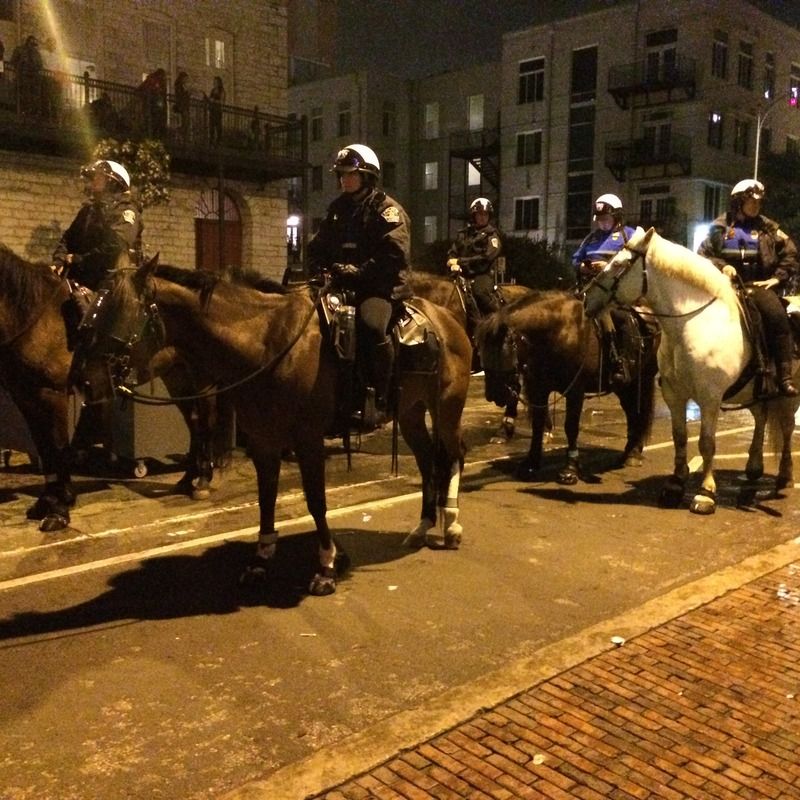 One of the shirts we made: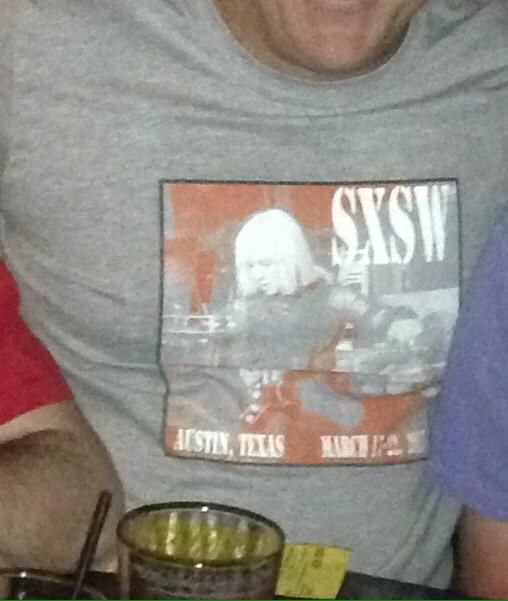 Wednesday night from Maggie Mae's rooftop: